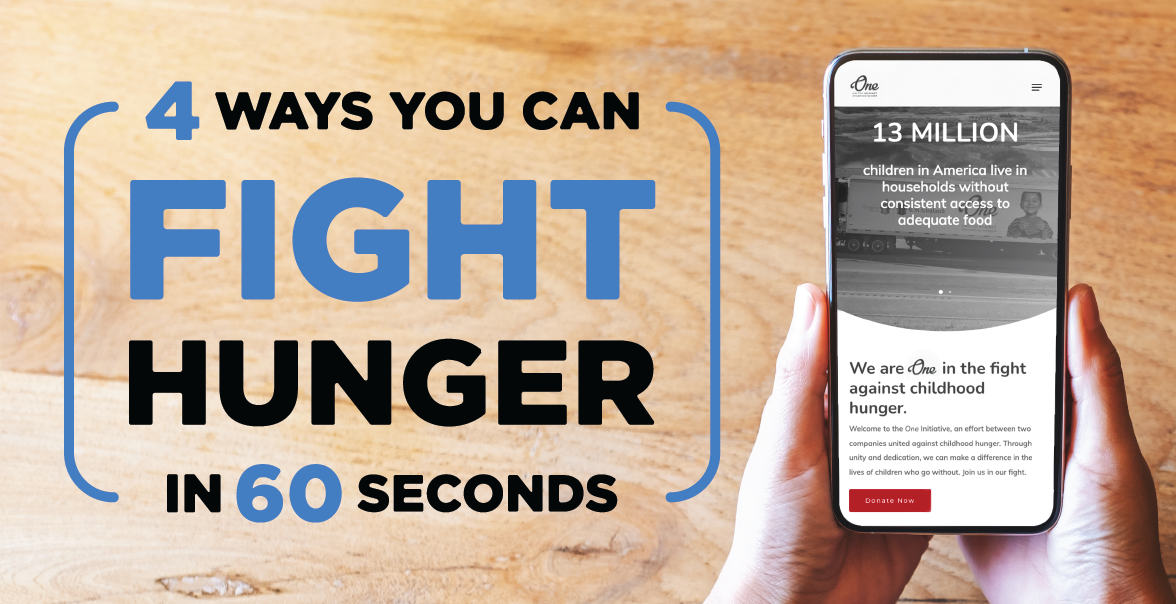 When keeping your own busy world intact is already a daunting task, making the rest of the world a better place can seem impossible.
Although it could be argued that life has never been busier, there's also never been a greater opportunity to serve. Technology enables us to not only serve in seconds, but also allows us to share that service with our vast social networks, encourage further action, and instigate a beautiful domino effect.
For the frantic busy-body that's a philanthropist at heart, here are a few ways you can fight hunger in 60 seconds.
Make a Donation
Though this avenue is pretty obvious, it's often the most impactful. By donating even a $5 to the One Initiative, you can provide meals to children in need! Even one meal can be a saving influence for a hungry kiddo. To make an easy donation, follow this link to make a difference: https://www.oneagainstchildhoodhunger.com/donate/
Volunteer with a Few Clicks
Volunteering can be the most rewarding of the different ways to get involved. In fact, studies report that, "63% of 25 to 34-year-olds say volunteering helps them feel less stressed." Not only do you get hands-on involvement in through service, but more often than not, you can also witness the fruits of your labors by seeing the result of your work.
If you're ready to start a better life for yourself and others, try volunteering at your local food bank. Sign-up processes are often entirely online, require only a few clicks, and cater to your schedule. Many food banks provide diverse volunteering opportunities, from boxing to delivery, and certainly has an activity that will align with your preferences.
Follow our Instagram page.
For updates, news, and volunteering/donation opportunities, follow the @oneagainstchildhoodhunger Instagram page! Followers have first access to information relating to the One Initiative and can show their support by increasing exposure.
Share One Initiative posts
To promote the fight against hunger in a single click, share One Initiative posts to encourage donating, volunteering, and awareness. Visit our other social media pages, (Facebook: @englandlogistics, @crenglandinc; Twitter: @EnglandLogistic, LinkedIn: England Logistics, C.R. England; Instagram: @englandlogistics, @cr_england), to read up on milestones related to the One Initiative.
Purpose is more than just having something to do; it's having to do with something greater than yourself. The next time you have a free 60 seconds, consider feeding hungry kiddos.