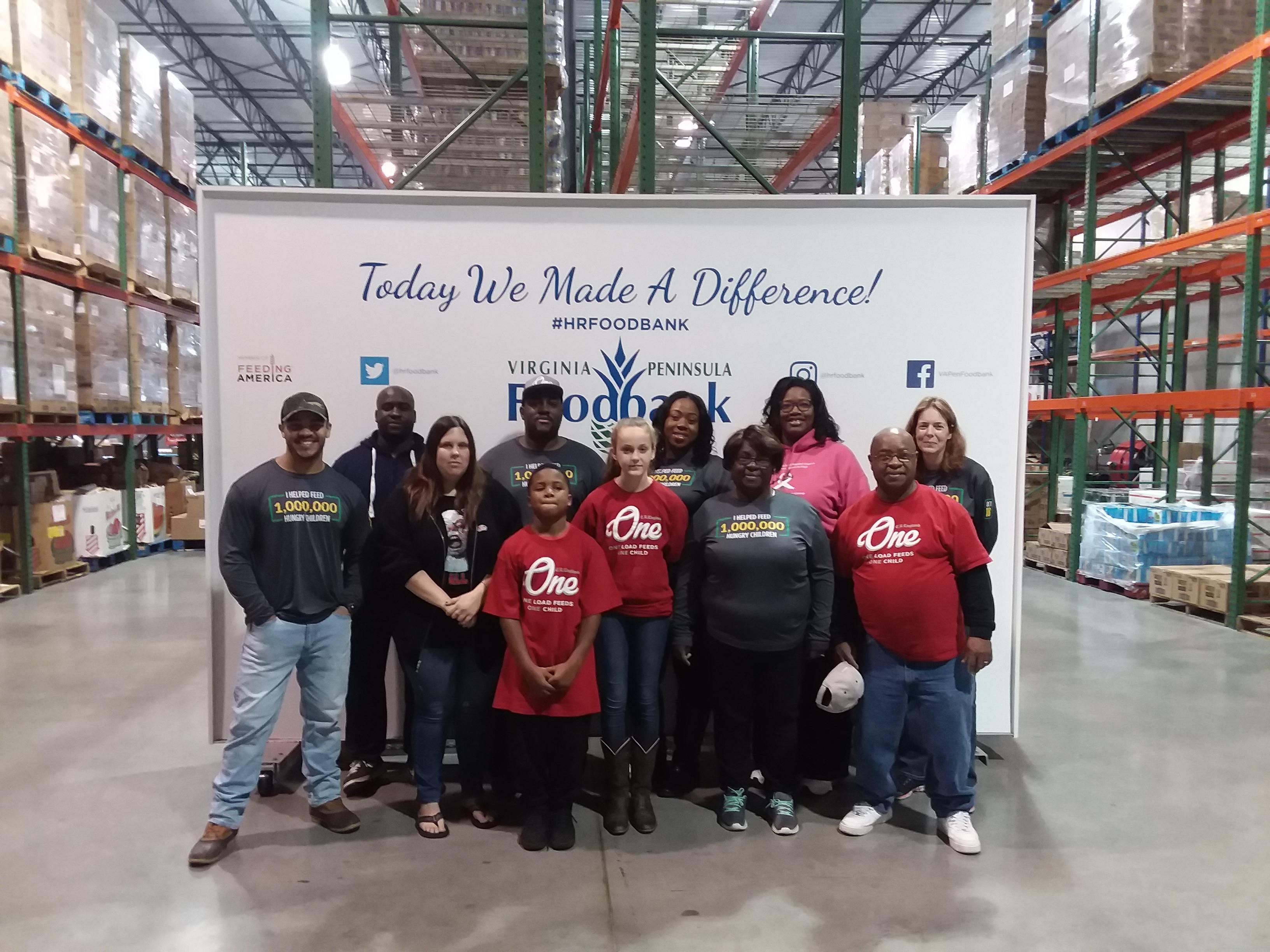 The One Initiative recently surpassed the goal of providing one million meals to hungry children. Through the help of team members at C.R. England and England Logistics, we were able to reach this goal early, but that doesn't mean our fight against childhood hunger is over. In the United States, there are 13 million children who are unsure of where their next meal will come from, which means there is more work to be done.
To keep the fight going and to kick off the holiday giving season, C.R. England's team in Smithfield spent their Saturday morning volunteering for the Virginia Peninsula Foodbank. Every week, the Virginia Peninsula Foodbank distributes 1,600-five pound meal bags to children in local schools that receive free or reduced lunches.
These bags are directly placed in book bags every Friday and contain the equivalent of five meals. As a group, the Smithfield team assembled over 400 bags for this program. That is the equivalent of 2,000 weekend meals for hungry children! Additionally, they packaged 150 bags of food items for homeless veterans in honor of Veterans Day.
The chair of the C.R. England Smithfield Cares Team, Heather Werner, has arranged several volunteering trips with her team at the Virginia Peninsula Foodbank. In addition to their recent volunteer work, members of the Smithfield team and their families visited the food bank in July to pack bags for the weekend backpack program and once in October to prepare Mobile Food Pantry bags. But, the Smithfield team isn't stopping there. On November 29th, Smithfield will hold an office fundraiser to help raise money for the weekend backpack program. Employees will be able to buy a BBQ lunch for $8 and all donations will be given to the Virginia Peninsula Foodbank. The Smithfield team hopes to raise enough money to fund 400 backpack meal bags and then visit the food bank to assemble them.
The Smithfield team has proven themselves to be dedicated to fighting childhood hunger and we are very grateful for their incredible efforts and contributions. Cares Team member and C.R. England Senior Account Manager Melanie Lee says, "There are so many children who go hungry every day. To be able to help provide food to them is very rewarding for the team. No child should ever have to go hungry and wonder where their next meal is coming from."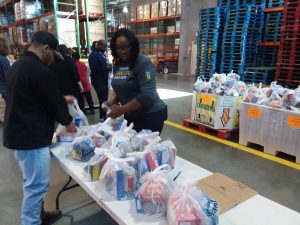 Coming together as a team to serve others is not only beneficial outside the office, the effects are valuable in the office too. Heather Werner says, "We all have different roles at C.R. England that relate to each other but are not in the same department. I think volunteering helps us connect within departments. It gets us all involved in helping others." By uniting as a team to fight childhood hunger, Smithfield has made a significant impact in the lives of hungry children, as well as strengthened their team.