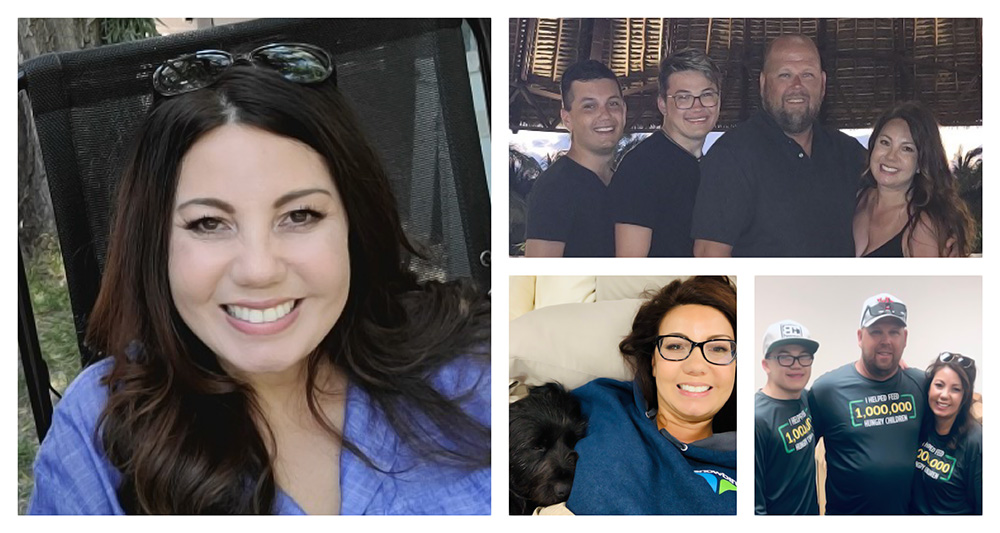 One: How long have you been volunteering with the One Initiative?
Lisa: Oh boy, it's been a long time. I started doing the deliveries ten years ago. I just do it whenever they need help. My kids would come with me when they were young and do it with me.
One: That is nice! What makes you want to contribute your time to the One Initiative?
Lisa: I just think people need help. It doesn't matter what their background or situation is. People always need help, and if you're available to help the food bank either by your time or contribution, it makes a difference. When you do the food box deliveries and see the people's faces, it makes you happy.
One: Do you have any experiences that stand out to you?
Lisa: There was one time, it was years ago, during Christmas time, I had my two kids with me, and we decided to do a food box delivery. It was cold, and it was kind of rainy at night. I think it might have been snowing. The address of the woman we were supposed to deliver to was crossed out, and there was a hotel instead.
I was thinking, did she get kicked out of her house? I was all worried, and she wasn't at the hotel either. She left because of her dog, and I told the hotel we had all this food for her. We ended up going to another hotel, and she was so grateful that we found her after going to her home, then both hotels.
We had dog food for her because when you do your deliveries, you also see if they have a cat or dog.
It makes you feel good when you see people happy you have given them food.
One: Wow, that is quite the story. You don't often consider how hard it is to get food when you don't have a permanent address.
You mentioned that you brought your kids with you. How have you seen your volunteering influence those around you?
Lisa: My oldest son is in the Navy, and he volunteered in the Navy. He would do funerals and go to help the elderly at other places. I have definitely seen the impact on my oldest son.
My youngest son still goes with me to do food bank deliveries. He's 20 now but still with us, so he will come with me because sometimes the box can be kind of heavy, depending on where you're going. They always make sure that when you do a delivery, it's in the same location now. It's in a complex just down the street or a house just down the street, so it's very close. He helps do it all the time.
That's not the only thing we've done with the One Initiative. We have gone to the food bank and built boxes before. We've gone to the Utah basketball game and held up signs for donations for the food bank. My whole family, even my husband, has done this with us. We make sure it's a family affair; we try and do something like that to help those in need.
One: In addition to that, how do you feel like volunteering has impacted you?
Lisa: I think I've always been very empathetic to people because you don't know about someone's situation. Someone could just have lost their job or have divorced or something to that effect.
It opens your eyes to see how people live and appreciate what you have.
You go to some homes and feel so bad for the families; it just makes you appreciate more of what you have and understand you don't know what they've gone through. It's made me more empathetic to everyone, and that's why I hope my kids will always have empathy for everyone because of the service that they've done.
One: What would you say to somebody that is deciding whether or not to volunteer?
Lisa: I would say just try it, take a family member, just try it once and see how it goes for you. Now they have streamlined the process, so when you pick up, you do two deliveries. It's very simple. Just collect the food, and they're right by each other. You only have to do it once, and if you don't like it, that's fine, but chances are you will want to do it again. It's just something that you can do, and it's just an hour and a half of your time. That's all it is. Yeah. If you can't donate money, donate your time.
The One Initiative unites C.R England and England Logistics in the fight to end childhood hunger. Learn more about work of the One Initiative at oneagainstchildhoodhunger.com.