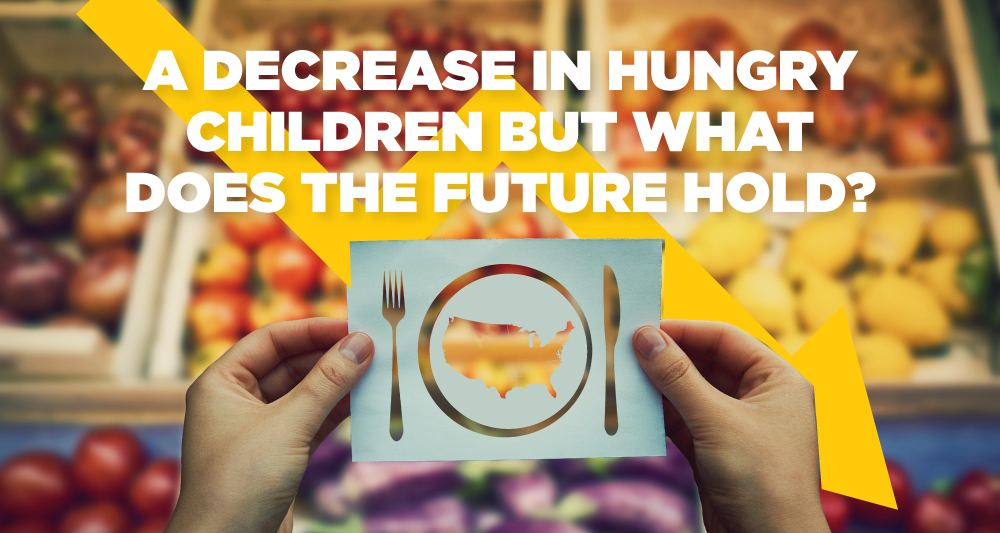 Childhood hunger is a problem across the United States and the world. Thousands of volunteers donate their time, money, and professional skills to helping to fight childhood hunger. Many groups organize volunteers, fundraise, and lobby political officials in an effort to make a difference. Thanks to the ongoing efforts of many in the United States, childhood hunger has reached a two-decade low.
Childhood Food Insecurity by the Numbers
The Annie E. Casey Foundation defines child food insecurity as children under the age of 18 who, in the previous 12 months, had lived in households that either could not provide enough food for all household members or it was uncertain if sufficient food would be available.
According to this chart, in 2001, food insecurity in households with children was 18%, which decreased to 17% in 2005. However, after that, the numbers returned to a high of 22% from 2009-2013. In the following years, a downward trend appeared, and in 2019-2021, the percentage of children suffering from food insecurity dropped to 15%. Although this is the lowest number in the last two decades, it still represents nearly nine million children in need of food.
What Efforts are Working?
Countless volunteers, donations, organizations, and activists have helped the improvements seen over the last several years. Giving to food banks and coordinating efforts to care for those in your community makes a huge difference.
In addition to these efforts, the relief given during the COVID-19 pandemic, such as Economic Impact Payments, an expanded Child Tax Credit, improved unemployment insurance, and expanded food assistance on top of programs already in place, such as the Supplemental Nutrition Assistance Program (SNAP) helped to keep hunger rates low during a time of great uncertainty.
What Does the Future Hold?
Relief responses enacted during the pandemic have shown that financial relief through an expanded Child Tax Credit and expanded food assistance programs have a significant impact on lowering childhood food insecurity. Organizations like Feeding America are urging policymakers to continue to provide this kind of support for families with a lack of access to the foods they need.
Unfortunately, the expanded Child Tax Credit has reverted to its pre-pandemic level. This will have an economic impact on food-insecure families with children. The change could mean more hungry children in 2023 than in previous years.
Although policies are changing, there is still a tremendous amount that can be done to fight childhood hunger. Getting involved in your community by volunteering and donating to organizations like the One Initiative can help support local food banks and directly impact the lives of children near you.
The One Initiative unites C.R England and England Logistics in the fight to end childhood hunger. Learn more about work of the One Initiative at oneagainstchildhoodhunger.com.