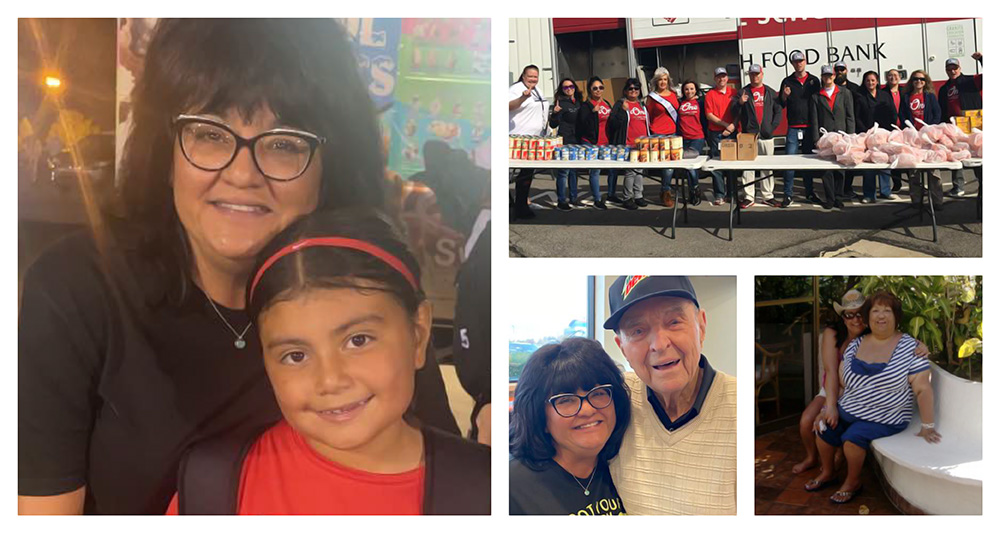 One: Why do you choose to contribute your time and your efforts to the One Initiative Christy?
Christy: It is in remembrance of my mother. My mom was one of the people that started the food pantry with the Community Action Program. She was very big on us volunteering when they would give out free commodities. My mom would make me and my brothers go down and help hand out food. When my mom passed away, I lost my job, where I used to do fundraising for the Utah Food Bank. Then I came to C.R. England, and I was so happy to see that they are big donors to the Utah Food Bank. I try to go every month to help volunteer with the food bank in remembrance of my mom.
One: That's a wonderful way to remember your mom. How has her example of service spread to impact you and others in your life?
Christy: I've even made my grandkids come in with me to volunteer. So that they can see that we're not above anybody and that we are here to help everybody.
Volunteering shows your love to the community, and that's really important.
My mom was a dedicated volunteer. I'm passing this down to the next generation from my mom. I always tell the story of how my mom started volunteering when I'm driving with the older grandkids; I tell them, 'This is what your grandma Pauline used to do.' I think it's good to give back to your community. You never know when the tables will be turned, and you may be on the other side.
One: How would you say you've seen your work influence others?
Christy: Here in the office, every time I go, I say good thing I got a reminder I have to go deliver food soon, and my coworkers ask me how I signed up for it. I tell them that Dave Allred sends out an invitation every month. I'm hoping one day they'll start doing it because they see me do it. I tell them it doesn't take much to go to the food bank. They're always asking how to get involved. I say it just takes some of your time, and it makes you feel good after.
I think everybody needs to give to their community. I'm just a giver.
One: What do you get out of these service experiences?
Christy: It's really funny because it kind of coincides with my position that I have here as the Student Liaison. My job is to make sure nothing hinders the students from successfully passing their CDL test. I have a closet full of food and personal hygiene things. My volunteer work and helping these students that have come hundreds of miles to get their CDL and have no food or no personal hygiene items makes me feel good. It doesn't matter how much stress I have going on in my personal life; when I go and volunteer for that hour, I forget my problems.
I know I'm helping someone. When they open the door and see their food is here, you've done it all. All you need to see is their smile.
One: Do you have any specific experiences that have stood out to you in your time doing food boxes?
Christy: It was sometime last year, in the summertime, and it was one of the very hot days. I was delivering out to the Midvale area, but I'd gone to the food bank, and one of the things they gave us that day was ice cream. It was 109 degrees outside, and I delivered to this cute elderly lady. I remember pulling up, and I opened the back of my vehicle, and I was gathering all this stuff. She came down the stairs and asked if the food was for her. I told her that it was, and she had a spoon and sat there eating her ice cream right on the stairs. She started telling me her whole life story, and she said, "I don't want you to think that I'm poor, people think I'm a little bit poor, but I'm not. I have lots of love in my heart. Can I give you a hug because you brought me this ice cream?" I asked her if she wanted the other groceries, and she said she didn't need them and started handing them out to her neighbors. It was the cutest thing.
I just thought that that was so sweet. You would've thought she was giving these people a million dollars. The food bank was okay with it. They said she does this every month when she gets a food order. When you look at these people who have nothing, but to them, they have everything, and they want to continue to give, I remember there are a lot of good people in this world. I always have to look for the good in everybody.
One: What would you say to somebody who was deciding if they wanted to start volunteering?
Christy: I would say all you have to do is, take that one hour, and you won't turn back. You'll want to continue to do it more and more. When you see the people out there that truly appreciate it and how good it makes you feel when you deliver this food, you go forth and want to volunteer more.
###
The One Initiative unites C.R England and England Logistics in the fight to end childhood hunger. Learn more about work of the One Initiative at oneagainstchildhoodhunger.com.