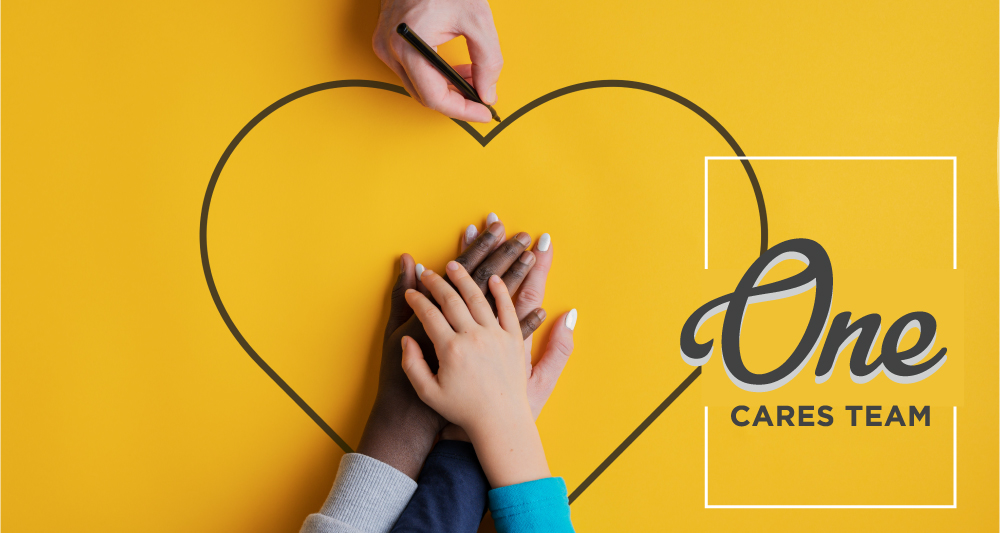 Opportunities to help those in your community are valuable. Providing service to others can be a humbling and enriching experience. Members of the Cares Team work to help bring these experiences to others and spread feelings of gratitude.
Acting as the engines that fuel the volunteering spirit of the One Initiative, the Cares Team carries out the vision of One in our every organization.
Dave has experienced firsthand the joy of serving others. He shares this joy by working with the Cares Teams spread across the globe.
—
One: First things first, would you tell me about the primary mission of the Cares Team, what the vision was, where it started and what it looks like now?
David: The vision started with Josh England's desire to have a greater impact in our communities as a company than we've had previously. To give you some context for that, the England family, C.R. England, England Logistics and other smaller entities over the years have always been involved in community causes. Most of those causes were based in Salt Lake, so when I came to work for the company 13 years ago, we had an ongoing relationship with Primary Children's Medical Center and with the Utah Food Bank, and a handful of other organizations that had just developed over the years.
We partnered with these groups and donated money, but Josh and I were having some conversations in early 2017 when he told me that he feared that we were "a mile wide and an inch deep. We're doing a lot of things, but we're probably not having as big an impact on the community as we would like." So, it was kind of his vision to step back and ask as companies and as a family, could we have a greater impact in our communities and then work to expand that?
The other interesting thing, especially on the C.R. England side, was that we had always struggled to try to find ways to get our drivers involved. The focus of the One Initiative, in general, was to try to do a corporate, company-wide, geographically diverse effort that would include everybody in the company and ultimately even include our customers, and our vendors.
The thought process began by considering what we do. Most of what we transport is a refrigerated product, or stuff that people eat.
Now, who has the greatest need related to food insecurity? It's generally kids. An adult can usually find something to eat, but kids struggle with doing that if they don't have a regular way in which they can get meals. If we could help kids have more to eat based on our ability to do that, we'd have a significant impact.
The original goal was to donate a million meals a year, which we thought was conservative. We thought we could do more than that and we've ended up doing more than a million meals since the inception of the program.
It's been very successful across both primary companies with the help of our customers and vendors and others.
One: As we continue to raise that vision, how does the committee supplement the One Initiative's efforts and what is their role, particularly in bringing to pass that vision?
David: Well, the committees have to be the activity arm of doing this.
As an example, we started a backpack program in Laredo, TX. I partnered with Dave Akers, president of our Mexico division, who helped us partner with the school district down there. We worked with our employees to get backpacks. Then we worked with vendors and customers to get stuff to put in the backpacks. We put together a very successful backpack program in cooperation with the school district, the Laredo Food Bank and our staff in Laredo.
The vision of the Cares Team was to make that all local. So, we began to identify individuals that believed in this vision, who were on the ground in locations where we had non-driver employees, and then set up committees. Then those committees are tasked with helping us do volunteer activities so, we now have local committees that are focused on specific needs.
What we try to do is set up the chair of the committee with the Food Bank and say, "What are your needs and how can we help you?" It becomes more individual and more localized that way. The other thing it does is provide flexibility for the Cares Team in a certain area to do something maybe we can't do in Salt Lake.
One: Do you have any personal anecdotes or instances of the things that people have done that you've been inspired by?
David: This year, at our leadership summit, Josh asked me to take just five minutes and talk about our community involvement. In preparation for that, I thought, what have we done over the last five years that really shows community involvement with the One Initiative?
I went into my files, and I started looking for pictures. There was one picture of four Cares Team members in one location that had set up at lunchtime and they were selling snacks. Then all the money they made would go to the Cares Team, and did they raise $100,000? No, but they raised several hundred dollars that went into the fund.
For every dollar that we raise we're feeding, a tremendous number of kids.
I think the thing that strikes me is that when you don't really think about it as a one-off, but when you think about it as the collective power of these committees and the things that they do… it's pretty incredible.
Anybody that has delivered food boxes or gone to a mobile food pantry has experiences left and right where people are just so grateful, and you see how you're really changing people's lives.
If you really want to be humbled go deliver food boxes.
For example, I went to this apartment in Murray, Utah, I went up the stairs up to the third level and I knocked on the door. This guy answered the door. He's a big, tall guy and he had a safety vest on. He opened the door. I had a food box and said I was from the food bank, and he says, "Oh thank you. Thank you so much." He said, "Are you going to go back to the food bank" and I said I was, and he said, "Can you take something back there for me?" and I said, "Sure." He's gone for a minute. He comes back and he hands me a money order for $2.00 and he said, "I know this isn't very much, but I want to make sure that the food bank knows that I appreciate this food box and I want to try to give something back."
You find that everybody that participates and contributes on the Cares Team always comes back feeling better about what they're doing. They are grateful for this effort where we're helping people and making a significant difference in their lives.